Photo Booth Fun at your Wedding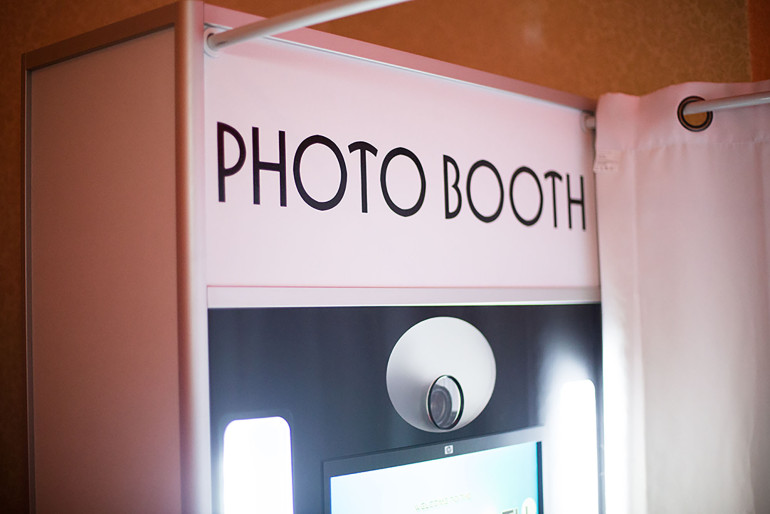 A photo booth can be a great ad-on for any event! But especially fun at a wedding reception!
This is the era of photo taking, so a photo booth is the perfect idea for your celebration.
There are many different types of photo booths available. There are Open Air Booths, The Original Hard Shelled Photo Booths, Photo Lounges (With pipe & drapes) and much much more.
Unique Sounds Entertainment uses a photo booth that has built in curtains that go around the booth. We feel that the look and functionality of this type of booth is a perfect fit for our clients needs. One of the great features of this booth style is that we have the ability to fit several people in the booth at one time. We also have a touch screen monitor for navigation and an opening on the side of the booth to retrieve your photo strips.
But the 2 big questions that we are always faced with is where and when to use the booth.
Here are a couple of great tips and ideas if you plan to have a photo booth at your wedding or event.
Photo Booth Placement – When you have a photo booth at a wedding reception it is always best to keep the booth in the same room that the action or dancing will be in. This way you don't lose people in the booth. Side note – Also, having a booth the fits several people in it is great because it keeps things moving.
Photo Booth Timing – There are many variables when it comes to timing things right. For example, if you are having a photo booth at a 5 hour wedding reception and the cocktail hour is from 5pm-6pm in the foyer area of the venue and the reception itself is from 6pm-10pm in the main ballroom, (providing you have the photo booth booked for 4 hours) then the photo booth should be in the main room from 6pm-10pm. Reason why is because you are keeping the booth in the room that the dancing will be and it is a more practical way to use your 4 hour time limit.
Sometimes we don't have the option to put the photo booth in the main ballroom because there is not enough room in the main ballroom for the photo booth. So in this case you would keep the photo booth outside the room. But now you would use your 4 hour time limit differently. (Providing you had the same time frame) you would keep the photo booth in the foyer area from 5pm-9pm. This way at 9pm the photo booth is shut down and you are able to keep people focused on dancing for the last hour or your wedding or event.
These are just a couple of great tips for your when you book a photo booth for your next celebration.